28 February 2020
"PhotonFlex" – organic solar cells manufactured in a roll to roll process



"PhotonFlex" – organic solar cells manufactured in a roll to roll process
The project "PhotonFlex" focused on the investigation and development of an entire roll to roll (R2R) process chain for the fabrication of flexible organic photovoltaic (OPV).
In close collaboration, the Fraunhofer Institute for Laser Technology (ILT), the Chair of Applied Laser Technology at the Ruhr University Bochum (LAT), Ortmann Digitaltechnik GmbH, LIMO GmbH and Coatema Coating Machinery GmbH developed innovative technologies for integrated coating, patterning and encapsulation processes for OPV production.
The functional layer stack for the OPV solar cells was developed and investigated in the laboratories of LAT. Finally, the preparation of this OPV layer stack was transferred to a wet chemical coating / deposition process that could be performed on the R2R machine at ILT. In order to increase the available power of the OPV, a serial interconnection of the individual solar cells was implemented into the manufacturing process. For this purpose, the single layers, with a thickness in the nanometer regime, were selectively ablated by using an ultra-short pulse laser. The associated loss of optically active area was minimized by using highly focusing optics. Furthermore, the productivity of the R2R laser process was increased by splitting the main beam into eleven parallel partial beams.
The protection of the OPV cells against harmful environmental influences (e.g. oxygen and air moisture), that can lead to a fast degradation of the OPV layer stack materials, was achieved by encapsulation. For this purpose the ILT and LIMO GmbH developed a welding method based on an adapted wavelength. This technique allows absorbance-free welding of transparent substrates inside the R2R tool. However, in order to weld the PET carrier substrate gas-proof with a protective foil, it is necessary to remove the OPV stack materials in the welding area. Therefore, a laser-based ablation process was integrated into the R2R system. This laser process can remove the entire OPV layer stack in the edge area of the PET carrier foil (where the welding process takes place).
Ortmann Digitaltechnik GmbH integrated innovative monitoring components for optimum process surveillance inside the R2R tool.
Finally, using these innovative technologies it was possible to customize the Coatema R2R system an implement of all essential steps of the OPV fabrication process chain.
The Coatema pilot line was extended with the following components:
A specially for this project designed ultra short pulse laser beam guidance optics by LIMO GmbH

Galvanometer scanner for ablation / removal of the OPV layer stack materials at the edges;

Process control through camera-based web edge detection and incremental rotary encoder from Ortmann Digitaltechnik GmbH,

and a third beam source to implement the laser welding process.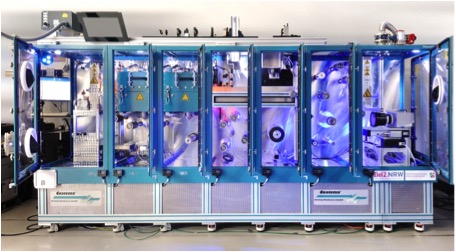 Utilizing these technologies, manufactures based in North-Rhine-Westphalia, are provided with powerful process and system components to allow them to take a pioneering role in the market for flexible solar cells and printable electronics.
PhotonFlex_Press Release (PDF)