Renewable energies

The markets for renewable and small carbon foot print energy sources has been a primary Coatema focus for more than 20 years.
There have been recent developments of new battery and fuel cell systems and more powerful, flexible solar cells. Coatema is playing a leading role in the development of coating and other technological solutions for these technologies.
To receive detailed quotations, please contact our project planning team at This email address is being protected from spambots. You need JavaScript enabled to view it. or contact your local Coatema agent.
Batteries
Coating solutions for batteries
Highly developed battery technologies such as lithium-ion, lithium polymer, solid state, redox flow and nickel-metal hydride batteries require efficient coating and casting processes for the anodes, cathodes and separator. Particularly for thin film batteries.
Battery developers and manufacturers can choose between one side or double side coating in a horizontal or vertical approach. Coatema machines can work with nickel foam, thin copper substrate or aluminium films, expanded metals and diverse types of separators.
A broad range of coating and printing methods can be used: doctor blade, commabar/reverse commabar, slot die, gravure printing, rotary screen printing or flat screen printing. Advanced intermittent coatings are standard for Coatema applications and can also be applied in a simultaneous double side method. In addition to our coating plants, Coatema's calender systems are worthy of note. They can be supplied as piece good calenders or as complete Roll-to-Roll production solutions.
Scale-up process
In the fields of coating and printing, Coatema can offer you expert knowledge ranging from laboratory machines to production plants for the most diverse components of the latest battery technologies. Together with our sister companies KROENERT and DRYTEC, we can offer complete production plants.
The Coatema Easycoater can be used for the development of samples for anodes and cathodes as well as for casting processes.
The Coatema Basecoater is ideal for smaller production quantities or to create samples with the diverse of materials. Experience gained with the Basecoater pilot plant enables the next step towards high-speed production plants with a working width of up to 1,200 mm and flotation dryers in a nitrogen atmosphere. From the smallest lab scale to major production, Coatema is an ideal partner for all battery coatings applications.
The Coatema Smartcoater and Click&CoatTM platforms provide further flexible laboratory and pilot plants. The Linecoater pilot/small production plant, with a working width of up to 1,000 mm, is the solution for many growinging battery applications.
Fuel cells
Coating solutions for fuel cells
Twenty years of experience in the fuel cells market and close collaboration with research institutes around the world, we're a competent partner for the entire process from development through to series production. Working in fuel clusters like the FCI in Aachen has resulted in a diverse background in fuel cell technology. Coatema works in the fields of AFC, PEMFC, HTPEM, SOFC and MOFC fuel cells. The main usage area of Coatema machines is the 7-layer membrane electrode assembly area. Here, different concepts are offered from small piece good systems up to integrated production solutions with a working width of up to 1,200 mm. Coatema offers machines for the following components: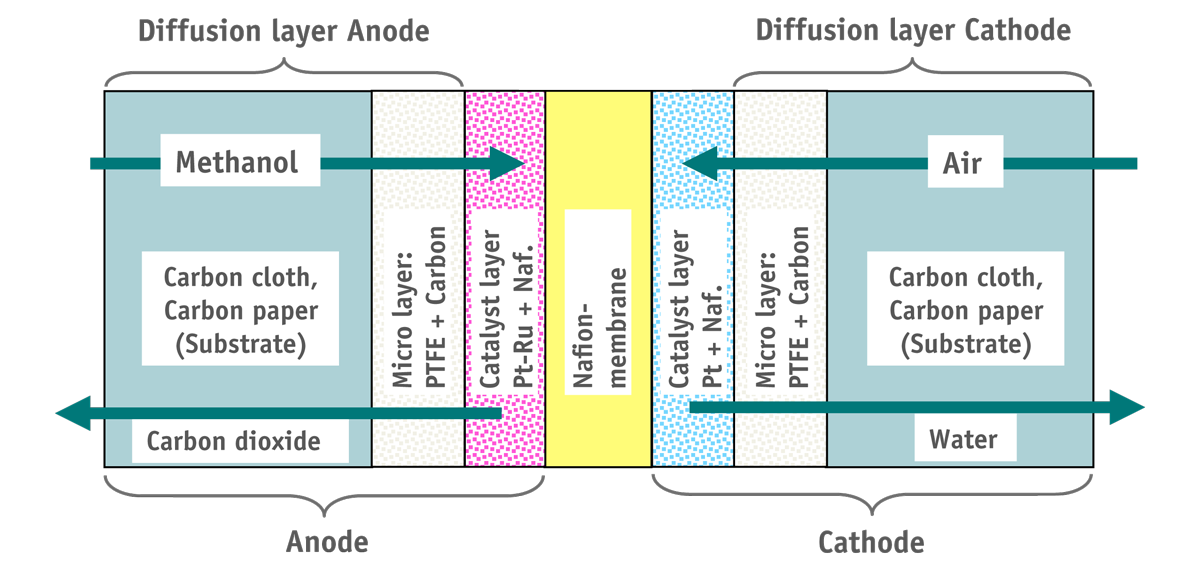 GDL = gas diffusion layer
GDE = gas diffusion electrode
Membrane = membrane
Indirectly coated CCM

Directly coated CCM

Casting or production of fuel cell membranes
Gasket = seal
Bipolar plate coated before or after shaping
On our plants, you can impregnate gas diffusion layers and apply micro catalysts and platinum catalysts to gas diffusion layers. The GDLs can be paper, non-woven materials or fabrics. Systems for the casting of membranes and direct/indirect coating of membranes with platinum catalysts are also offered.
The following coating systems can be used here: Doctor blade, gravure rollers, slot dies and micro rollers. These are available as modular coating heads that can be quickly changed, giving a high level of flexibility.
Scale-up process
Coatema offers systems in the field of fundamental research via the laboratory coater machines such as the Easycoater, customised Easycoaters with modified drying concepts, pilot plants with integrated seal feeds and industrial production plants for MEAs or other fuel cell components. These solutions are offered for the following fuel cell technologies: AFC, PEMFC/HTPEMFC/DMFC, MCFC, SOFC.

For these various fuel cell technologies, we offer working widths ranging from DIN A4 to material widths of 1,200 mm in the R2R field.
A range of plants at the Coatema R&D centre can be used for process and product development.
Solar cells
Coating solutions for solar cells
For more than fifteen years, research has been conducted on alternatives to silicon-based solar cells. Particular research focuses include printed CIGS, dye-sensitised solar cells (DSSCs), and polymer solar cells. Here, the roll-to-roll production of these solar cells has been a focal point for Coatema Coating Machinery GmbH. Naturally, Coatema is also involved in developments for new cell types such as perovskite solar cells. In addition to FP7 and H20220 EU projects on the topic of polymer solar cells, Coatema has been and still is, involved in all major pilot plants for the aforementioned technologies. Today, we're even the market leader in some areas.
Since the first usage of flexible organic solar cells at the turn of the century, Coatema has been delivering coating, printing and encapsulation solutions in this relatively new market. Together with our sister companies KROENERT and DRYTEC, Coatema can supply production solutions with a working width of up to 2,000 mm.
For some years, Coatema's plants have also been equipped with laser structuring or nanoimprinting technology. Our delivery range is rounded off by several encapsulation machines for flexible solar cells in a nitrogen atmosphere.
As an example, you can see a Smartcoater with an inert atmosphere, laser structuring and encapsulation with barrier films here. This was delivered to the Fraunhofer ILT in 2008 as part of the FlexLas project. We also feature a Click&CoatTM plant for a research partner in Australia.
However, flexible organic solar cells are also manufactured on a large scale using larger pilot plants such as at the VTT PrintoCent development centre in Finland.
Scale-up process
Again, for all market participants, Coatema is a scale-up specialist with whom full product developments can be performed up to series readiness.
As well as developing solutions with small table systems such as Test Solution and close-to-production systems like the Linecoater, our customers can benefit from the Coatema R&D centre and our host of cooperative partners in the global research and development network.