Details

29. August 2018
KROENERT and Coatema Under One Umbrella Company
+++++ PRESS RELEASE +++++
KROENERT and Coatema Under One Umbrella Company
Hamburg/Dormagen, 29 August 2018 – Hamburg-based ATH Altonaer-Technologie-Holding GmbH – owner of KROENERT GmbH & Co KG – and Coatema Coating Machinery GmbH, have announced that they have signed an agreement under which ATH will take over all shares of Coatema.
KROENERT and Coatema are manufacturers of machinery and systems in the coating and converting industry and global leaders in their respective market sectors. Merging the companies under the umbrella of ATH will create a group with a comprehensive product portfolio of coating applications and a high degree of innovative power.
Both companies and brands will remain independent and continue to operate from their respective headquarters as before. Detlev Dieke and Dr. Andreas Giessmann will also retain their positions as managing directors of Coatema.
Dr. Tarik Vardag, Managing Director of ATH and KROENERT emphasises: "As a leading manufacturer of tailor-made coating and laminating lines, this alliance will further consolidate our international market position and, most importantly, it will set new technological standards. We are particularly impressed by the product range and the innovative power of Coatema, significantly boosted through close networking with research and development centres. KROENERT and Coatema are an ideal match and I greatly look forward to our future collaboration."
"The integration of Coatema in the ATH Group creates a product range which is unique on the market in the world of coating. Customers are provided with comprehensive support, from research to laboratory facilities to large-scale production systems and special-purpose machinery. We are pleased to now be a member of the ATH Group and thus be able to apply our combined know-how to offer solutions to a wide variety of industrial sectors," adds Dr. Andreas Giessmann, Managing Director of Coatema.
About ATH
Under the umbrella of the ATH Altonaer-Technologie-Holding GmbH, the companies KROENERT, DRYTEC and ZAE deliver innovative technologies, efficient machines and drive systems to customers around the world. ATH is based in Hamburg and employs about 400 people. Further information: www.ath-group.de.
About KROENERT
Since 1903 KROENERT GmbH & Co KG is developing, engineering and manufacturing customized line solutions in the field of coating technology for web-like materials such as paper, foil and film. The products manufactured on KROENERT machines are used in the flexible packaging industry, for technical applications and renewable energies as well as environmental protection. KROENERT's headquarters are in Hamburg, Germany, where its own research and test centres are also located. Further information: www.kroenert.de.
About Coatema
Coatema Coating Machinery GmbH offers a full range of equipment and R&D for coating, printing and laminating systems for Roll-to-Roll and Sheet-to-Sheet applications. The company has over 40 years of experience in the textile, foil and paper markets and offers lab, pilot and production lines with a focus on these high tech markets and innovative technologies. Coatema's headquarters are in Dormagen, Germany, and the company employs about 45 people. Further information:
www.coatema.de.

Press Contact:
ATH Altonaer-Technologie-Holding GmbH
Dr. Tarik Vardag, Managing Director
Phone: +49 40 85393 200
Email: Diese E-Mail-Adresse ist vor Spambots geschützt! Zur Anzeige muss JavaScript eingeschaltet sein!
ATH Altonaer-Technologie-Holding GmbH | Schuetzenstrasse 105 | 22761 Hamburg | Germany
Phone: +49 40 85393 02 | Fax: +49 40 85393 106 | www.ath-group.de
KROENERT GmbH & Co KG
Markus Waterkamp, Managing Director
Phone: +49 40 85393 167
Email: Diese E-Mail-Adresse ist vor Spambots geschützt! Zur Anzeige muss JavaScript eingeschaltet sein!
KROENERT GmbH & Co KG | Schuetzenstrasse 105 | 22761 Hamburg | Germany
Phone: +49 40 85393 01 | Fax: +49 40 85393 171 | www.kroenert.de
Coatema Coating Machinery GmbH
Dr. Andreas Giessmann, Managing Director
Phone: +49 2133 9784 120
Email: Diese E-Mail-Adresse ist vor Spambots geschützt! Zur Anzeige muss JavaScript eingeschaltet sein!
Coatema Coating Machinery GmbH | Roseller Strasse 4 | 41539 Dormagen | Germany
Phone: +49 2133 9784 0 | Fax: +49 2133 9784 170 | www.coatema.de
Details

29. August 2018
Coatema at INDTECH2018 Vienna, Austria
Coatema will be exhibiting at the INDTECH2018, the European "INDustrial TECHnologies 2018 - innovative industries for smart growth" in Vienna from 29-31 October, 2018.
Matchmaking, talks with experts and academics, exhibitions = Innovative industries for smart growth. 1000 expected participants, 80 speakers from more than 30 countries in Europe and across the globe, 20 talks in 3 parallel sessions, interactive discussions in world cafés and fish-bowls, matchmaking events, site visits to 5 leading Austrian companies, exhibition with over 20 leading international organisations, 10 thematic workshops on 29 October.
For promotional material click here:
Flyer Announcement INDTECH2018 Vienna, Austria
Presentation INDTECH2018 Vienna, Austria
Programme INDTECH2018 Vienna, Austria
Website: https://www.indtech2018.eu/
Address: Messe Wien Exhibition & Congress Center, Messeplatz 1, Austria
or contact: Diese E-Mail-Adresse ist vor Spambots geschützt! Zur Anzeige muss JavaScript eingeschaltet sein!
Details

20. Juli 2018
Visit by Minister of Economy of North-Rhine Westfalia Andreas Pinkwart at Coatema
+++++ PRESS RELEASE +++++
Visit by Minister of Economy of North-Rhine Westfalia Andreas Pinkwart
Dormagen, 20 Juli 2018 – Global acting German Company Coatema has 48 employees and is very successful for over 40 years. The family owned business in second generation has experience in coating, laminating and printing with its core business in custom made machinery and machinery from Lab to Fab. New Technologies and cooperations with other middle-class companies have made Coatema to one of the market leaders world wide.
The focus is on high tech markets, world class full-service and a versatile R&D centre for coating, printing and laminating. This enables Coatema to offer complete Lab to Fab technologies.
In March 2018, Coatema has been honored by the Network Future through Innovation. As a finalist in cooperation with the Fraunhofer ISC. The project honored is about a cost efficient electrochromic film for smart windows.
Minister Pinkwart was very impressed of the innovation made by Coatema.
During his summer journey through North-Rhine-Westfalia visiting companies, he decided to visit also Coatema and to get to know more about this innovative company. The company gave him an overwiev about their strategy in innovation and current status of R&D projects. A tour through the Coatema´s R&D Center was guided by the Coatema management team. Pinkwart said: "Innovation through cooperation is the competence of Coatema. I was excited about the latest idea of an "open Fab". This is a platform where different cross-sectional technologies get together and interchange. It shall be used by all middle-class companies and would improve business conditions in general in the state of North-Rhine-Westfalia."
Details

20. Juni 2018
COMEDCO
+++++ PRESS RELEASE +++++
COMEDCO – the complete solution for transdermal dressings and oral dispersible films
A new alliance: Coating and converting combined

Reaching your objective fast and safe with a new alliance: COMEDCO. The new alliance assists pharmaceutical companies with their start into the manufacturing and packaging process of transdermal dressings and oral dispersible films. The technology leaders Coatema Coating Machinery GmbH and OPTIMA life science GmbH are behind COMEDCO with their expertise in converting and coating with pharmaceutical medicines.

Today's technology offers new methods to administer medication. Pills and syringes will remain; however, there are many reasons to expand how to administer medications. An example is older people in need of care who have difficulty swallowing and where pills might not safely reach the intended "target". Or illnesses, which may require frequent shots. Cases like these require alternative solutions that are still effective but more convenient for the patient.

It also makes sense to transport the substances as close as possible directly to the affected area during administering. A lower drug concentration and less stress to the gastrointestinal tract are additional advantages to choose transdermal dressings or oral dispersible films.

A higher demand in oral dispersible film (ODF) and transdermal dressings (TDS – transdermal systems) is already apparent for the machine manufacturing industry, especially in the Asian and U.S. market.

New administration forms for pharmaceutical agents becoming increasingly important

The packaging industry has the responsibility to follow this trend and to develop new designs and present solutions. The idea behind COMEDCO is to make it easy and safe for pharmaceutical companies to start their new developments for transdermal and ODF products. The COMEDCO portfolio includes laboratory or development equipment platforms, which are scalable to medium and large size production capacities.

Development expenses occur during the launch of ODF or TDS product. Here the machine builder can help to reach the objective faster and with less expenditure. Answers to questions like: What is the best suitable application and dosing system for a certain drug? What is the best carrier material for which drug? How can a correct homogeneous substance per piece or unit be guaranteed and controlled?

The production of transdermal dressings and ODF products starts with the coating process where the substance is applied to the carrier material by a COMEDCO machine. Depending on the product, a certain drying time has to be considered which takes place within the machine.

Subsequently the carrier material with the applied substance is cut and rolled into individual rolls. The product, depending on the drying process and the strict separation of different pharmaceutical substances, to avoid cross-contamination, may require a batch process. The coating process takes place in the first part of the COMEDCO machine.

Our COMEDCO partner Coatema Coating Machinery GmbH provides decade long expertise in the development and distribution of different coating machinery. Projects from the medical and pharmaceutical industry are a part of their expertise. The company is well known worldwide for its diverse technology center in coating technologies. With COMEDCO, customers are able to rely on our experts, to define the different possibilities and discuss advantages and disadvantage of the different technologies for their product. In addition, our coating experts are in a close contact with scientific institutes and well connected through several scientific projects.

Expert Duo

The packaging process is completed in the second part of the COMEDCO machine. In this part of the machine, existing (product depending) carrier material can be removed, new carrier material introduced, film would be cut to a defined size, separated and reunited on a carrier film and packaged. Packaging of transdermal dressing is often more complex than packaging of oral dispersible film due to a wider variety of product options and different processing methods. The COMEDCO machine offers continuous or intermittent converting and packaging processes.

This part of the COMEDCO machine is based on technologies from Optima Life Science. Optima Life Science offers expertise from a variety of completed projects for ODF and TDS products, as well as from state-of-the-art wound care packaging processes. The company made a name for itself across the industry through flexibility with complex automated processes. First with the production and packaging of diagnostic products and thereafter, in medical web converting.

Optima Life Science is part of the Optima Packaging Group, which has successfully built manufacturing and packaging machinery for decades, among other industries, also for the pharmaceutical industry and life science companies.

Loose connection or strong partnership?

An intense search for the right partner preceded the COMEDCO alliance. One of the deciding factors for the alliance was the perfectly complementary expertise of Coatema Coating Machinery GmbH and Optima Life Science. Both companies are similar regarding their focus – keywords are: pioneering achievements, philosophy, and company size. In addition, both companies are convinced that the partnership will bring many advantages to customers and end-users.

The contractual partner for customers will always be Optima Life Science, therefore, customers will benefit from one responsible party and a clear structure. Both companies provide expert contacts. In addition, both companies are still operating as separate entities if the project is related to only coating or packaging.

COMEDCO made its first public appearance during the Achema show. This joint kick-of emphasizes the commitment to the alliance. A COMEDCO website is also available (wwww.comedco.de). At the start of 2018, the founding of COMEDCO was contractually finalized. An initial joint order was won shortly after.

http://www.comedco.de/en
Details

08. Februar 2018
Modulares Click & Coat®-System von Coatema
Ein repräsentativer Artikel in der aktuellen Februar Ausgabe 67 des C2 Coating & Converting Fachmagazins zum Thema "Beschichtung ist unsere Kernkompetenz". Krefelder Firma Laufenberg nimmt das neue Technikum und Innovationszentrum mit dem modular aufgebautem Click & Coat®-System von Coatema in Betrieb. Weiter zum Artikel BESCHICHTUNG IST UNSERE KOMPETENZ.
Details

19. Mai 2016
Coatema bei der drupa 2016
Düsseldorf. Als eines der großen Highlights im Bereich Printed Electronics in der diesjährigen drupa, präsentiert Coatema in einer Live-Demonstration seinen innovativen Bestseller, den Smartcoater. Mit der neuen gemeinsamen Marke Temicoat werden Pionierlösungen im Bereich gedruckter Nanostrukturen vorgestellt.

Als führender deutscher Hersteller von Beschichtungs-, Druck- und Laminieranlagen für Printed Electronics freut sich Coatema Coating Machinery GmbH, auch dieses Jahr wieder auf der drupa mit einer absoluten Neuigkeit vertreten zu sein. Als Forschungs- und Upscaling-Anlage wurde der Coatema Smartcoater mit einem hochinnovativen 6-in-1 Auftragswerk versehen. Neben dem Schlitzdüsen- und Rollensiebdruckverfahren werden weitere vier Auftragsverfahren in die Anlage integriert und machen effiziente Prozessentwicklung sowie flexibles Upscaling in Printed Electronics und Organischer Photovoltaik erst richtig möglich.

Die Anlage ist ausgestattet mit Silberpastendruck, einer UV-LED Curing-Einheit und einem hochmodernen Flashlight Sintering-System von Heraeus. Sie wird in einer Live-Demonstration auf dem Coatema-Stand B05 in Halle 6 zu besichtigen sein. Erfahrene Beschichtungs- und Druckexperten stehen für Fragen und Beratung jederzeit zur Verfügung.

Coatema und Temicon – beides etablierte Technolgie-KMUs aus NRW – sind außerdem stolz, ihre gemeinsame Marke "Temicoat" vorzustellen. Temicoat steht für hochinnovative Seamless Nanoimprint-Technologie für Display-, Photovoltaik-, biomedizinische und bionische Anwendungen. Die angebotenen One-stop-shop-Lösungen zum Druck von Strukturen im Mikrometer- und Nanometer-Bereich schließen die komplette Produktionskette ein, inklusive Anlagen, der nötigen Chemie, der Serienfertigung sowie der Endprodukte.

Über temicon GmbH
temicon GmbH ist der führende Anbieter von hochqualitativen mikro- und nanostrukturierten Produkten als Schlüsselkomponenten für Display-, Life Science-, Solar- und biomedizinischen Anwendungen. Das Technologieunternehmen hat eine einzigartige Plattform für Mikro- und Nanostrukturierung geschaffen. Das Unternehmen verwendet Lithografie, Dünnschichttechnologie, Electroforming, Spritzguss, R2Rund R2P-Technologien zur Herstellung der Mikro- und Nanostrukturen – mit einem besonderen Fokus auf großflächige Strukturen und Serienproduktion. Für mehr Infos besuchen Sie bitte www.temicon.com

Über Coatema GmbH
Coatema Coating Machinery GmbH konstruiert und fertigt Anlagen für die Bereiche Beschichten, Drucken und Laminieren. Sowohl für Rolle zu Rolle Anwendungen bahnförmige Substrate als auch für Stückgutbeschichtung.
Das Unternehmen ist seit 40 Jahren in Märkten wie Textil, Folien- und Papierbeschichtung aktiv und bietet hier Produktions- und Pilotanlagen an.
Vor 15 Jahren wurde der Bereich Pilotanlagen entwickelt in denen Coatema heutzutage Marktführer in innovativen Technologien wie Batterien, Solar, Prepregs, Medizin, Brennstoffzellen und gedruckte Elektronik ist.
Die Fokussierung auf diese High-Tech Märkte, ein umfangreiches Serviceangebot und das weltweit größte Technikum für Beschichten, Drucken und Kaschieren ermöglicht es dem Unternehmen Coatema seinen Kunden komplette Lab-to-Fab Technologien (vom kleinen Muster bis zum fertigen Produkt) anzubieten.
Neben der klassischen Ausrichtung als vertikal integrierter Maschinenbau nimmt Coatema regelmäßig auch an deutschen und europäischen Forschungsprojekten teil und führt jedes Jahr am Standort in Dormagen eine internationale Beschichtungskonferenz durch.
Als global agierendes Unternehmen verfügt Coatema über ein weltweites Vertriebsnetz und beliefert alle Wachstumszentren mit ihren Produkten für Beschichten, Drucken und Laminieren.
Details

06. April 2016
temiCoat® at the LOPEC 2016
World's biggest event for large-area, organic and printed electronics
Dormagen, GERMANY – Micro-/Nanotechnology specialists Coatema and temicon have announced their joint release of temiCoat® as a new brand of their joint activities in the field of nanoimprinting and nanostructuring machinery. temiCoat® will be introduced for the first time to the public during LOPEC 2016 exhibition in Munich.

Coatema and temicon, both technological leaders in their industry, have joined their experiences in the brand temiCoat® in order to provide the technologically most advanced nanoimprinting and nanostructured coating lines to customers on international scale . temiCoat® will exhibit and provide live demos at LOPEC 2016, the world´s most prestigious event and congress for printed electronics and organic large-area electronic coatings.

temicon holds a uniquely deep expertise in the field of nanoimprinting tools and machinery. Coatema has more than 40 years of engineering experience and is technologically leading in manufacturing precise coating, printing and laminating lines. The new brand temiCoat® combines the advantages and experiences of both companies to deliver the most advanced and most reliable nanoprinting turnkey solutions and guaranteed products.

Visitors interested in seeing live production of nanoprinting and nanostructuring coating lines are kindly invited to visit the Demonstration Line at the LOPEC in Munich from April 6th to April 7th, 2016.

For a free invitation fpr LOPEC visit please contact temiCoat® via Email. FOr further information please contact temiCoat® via Email or phone: Diese E-Mail-Adresse ist vor Spambots geschützt! Zur Anzeige muss JavaScript eingeschaltet sein! or +49.231.47730-550.

About Coatema GmbH
Since 40 years Coatema is well known as the developer of innovating products in coating, printing and laminating. From in-house lab solutions to production plants we are able to provide the full range of our customer needs.

About temicon GmbH
temicon GmbH is the leading producer of high-quality micro- and nanostructured products serving the key components for applications like lightning, display, life science, solar technology and environmental enginieering. For more information, visit www.temicon.com.
Details

24. März 2016
Coatema at the LOPEC 2016
World's biggest event for large-area, organic and printed electronics
Munich, GERMANY - organic and printed electronics are among today's fastest growing technologies and will have a huge impact on our everyday life. Coatema Coating Machinery Company is a market leader in the manufacturing of organic electronics and will introduce their latest advancements at LOPEC 2016 in Munich.

One of the major highlights at LOPEC 2016 will be the introduction of Coatema's new "Test Solution" product line for roll-to-roll and sheet-to-sheet coating, printing and laminating. This compact and budget orientated product line offers a small scale platform especially for laboratories and R&D centers. Coatema will also present the Smartcoater in a new remodeled layout with 6-in-1 coating system, an integrated register control, UV LED crosslinking system and a new module for photonic sintering. This system can be experienced live at the LOPEC Demonstration Line.
At LOPEC conference, Coatema Vice President Thomas Kolbusch will be a featured speaker focusing in his talk especially on recent developments in nanoimprinting and laser structuring technologies.
Visitors interested in seeing live production of printed electronic products are kindly invited to visit the Demonstration Line at the LOPEC (hall B0/booth 407) where Coatema will produce EL devices on their Smartcoater. All LOPEC attendees are invited to visit Coatema in Munich from April 6th to April 7th, 2016 in hall B0 on booth 405.
For a free invitation for LOPEC visit or further information please contact Coatema via Email Diese E-Mail-Adresse ist vor Spambots geschützt! Zur Anzeige muss JavaScript eingeschaltet sein! or by phone on +49 (0) 21 33 / 97 84 - 121.
We are looking forward to meet you at LOPEC 2016.
Details

18. März 2016
New technical center introduced at Coatema symposium 2016
Dormagen, GERMANY - March 18th, 2016 – Coatema Coating Machinery Company has introduced their new and remodeled technical center, opening now its latest and technologically upgraded coating and laminating machines for customer trials, hands-on process development and small series production.
Over 80 participants from more than 12 different countries visited and contributed to this year's symposium of Coatema Coating Machinery Company, held on March 16-17, 2016. The range of introduced coating machines reached from lab scale to fab scale, including a full production line and more compact test solutions for R&D centers.
Three coating and printing series have been presented: 1) A full production line, equipped with automated turret winder, 2) the mid-scale flexible Click-and-Coat unit, including a register control camera and spatially-resolved inline thin film thickness metrology, and 3) the lab-scale Smartcoater, demonstrating onsite a live coating of silver ink for electronic printing applications, including an ultra-fast UV cross-linking dryer and an inline flashlight sintering system.
The symposium conference was focused this year on the discussion of latest advancements in roll-to-roll coating processes and on the expectable gain in coating quality and efficiency by integration of reliable inline metrology. More than 12 speakers and experts contributed with talks on their latest scientific work and experiences, among them experts from Fraunhofer IWS, Heraeus, Henkel and FRT.
Since 2000, the Coatema symposium is a popular annual event mostly frequented by experts and decision makers from science and industry. It is appreciated by attendees for its well established role in facilitating exchange of knowledge and development of new business ideas. The symposium is accompanied by technical live demos and traditionally hosted by Coatema Coating Machinery in Dormagen.
Details

26. Juni 2015
Coatema Seminar at the Brno University of Technology
September 2 - 3, 2015
Brno, CZECH REPUBLIC – Coatema's new Pilot line to be demonstrated in a one day seminar at the Brno University of Technology on September 2nd to 3rd, 2015 in Czech Reublic.
The Sixth Meeting on Chemistry and Life will be held at Brno University of Technology, Faculty of Chemistry. It will draw upon the tradition of regular meetings providing people from industry, research and academia with a forum to exchange ideas on recent advances in research in materials chemistry, environmental chemistry and technology, food chemistry and biotechnology, physical chemistry and applied chemistry. The conference will be held under the auspices of the rector of Brno University of Technology, Professor Petr Štěpánek.
Conference Agenda:
Presentation Coatema Coating Machinery GmbH by Dr. Ludger Michels
Presentation Printed Electronics by Dr. Ludger Michels
University lecture by Dr. Ludger Michels
Question and answer session
Lab tour
This gives the newest update on development in Printed Electronics.
We are looking forward to meet you in Brno.
Details

11. Februar 2015
Coatema auf der LOPEC 2015
Weltweit größte Veranstaltung für großflächige, organische und gedruckte Elektronik.
Die gedruckte Elektronik ist eine der Wachstumstechnologien der nächsten Jahre. Die Coatema Coating Machinery GmbH ist einer der Marktführer in diesem innovativen Wachstumsmarkt und ist dieses Jahr wieder auf der LOPEC in München als Aussteller, als Teilnehmer an der Demonstration Line und mit einem Vortrag vertreten.
Die LOPEC ist die größte Messe für organische und gedruckte Elektronik und findet dieses Jahr zum 7ten Mal statt.
Eines der Coatema Highlights dieses Jahr auf der LOPEC 2015 ist die neue Produktserie Test Solution, die auf der Messe in München das erste Mal gezeigt wird.
Beschichten, Drucken und Laminieren im Kleinstmaßstab - sowohl Stückgut als auch Rolle-zu-Rolle.
Die kompakten und kostengünstigen Laboranlagen können mit unterschiedlichen Druck- und Beschichtungssystemen (Slot Die, Rakel, Flexo und Gravurwalze) ausgestattet werden und sind vielfältig erweiterbar.
Für diejenigen der Besucher die einmal die Live Produktion von gedruckten Elektronikprodukten sehen möchten ist das Coatema Team mit einer Pilotanlage auf der Demonstration Area vertreten. Hier wird ein EL Display gedruckt und Muster verteilt.
Wir möchten Sie herzlich einladen uns vom 4. bis 5. März 2015 auf der LOPEC in München auf unserem Stand Nr. 305 zu besuchen.
Gerne erhalten Sie Eintrittsgutscheine von uns. Schreiben Sie uns einfach eine kurze Email mit der gewünschten Anzahl von Eintrittskarten.
Details

09. September 2014
Das Programm steht fest
14. internationales Symposium für Beschichten, Drucken & Laminieren
Vielfältige Vorträge und detaillierte Versuche warten auf Sie
Das Programm zu der zweitägigen Veranstaltung am 4. und 5. November können Sie hier herunterladen.
Details

03. Juni 2014
LOPEC 2014 Highlights
Coatema Highlights
Weltweit größte Messe für organische und gedruckte Elektronik
Die internationale Fachmesse und Kongress für gedruckte Elektronik, kurz LOPEC, hat letzte Woche in München zum 6. Mal stattgefunden.
Details

22. Mai 2014
Unter den besten Fünf
Coatema beim IHK Forschungs- und Innovationspreis 2014
Der Thin Film Coater/Printer gehört zu den besten fünf Innovationen dieses Jahres
Gestern wurde zum 6. Mal der IHK Forschungs- und Innovationspreis vergeben. Die Verleihung und Feier fand in der Maschinenhalle im Monforts Quartier in Mönchengladbach statt.
Details

16. Mai 2014
14. Coatema Symposium
Der Termin steht fest ...
Das 14. internationale Smyposium für Beschichten, Bedrucken und Laminieren wird im November, vom 4.-5. November (Dienstag & Mittwoch) stattfinden.
Mehr Informationen gibt es hier.
Details

16. Mai 2014
Die LOPEC 2014 findet bald statt
Coatema auf der LOPEC 2014
Weltweit größte Messe für organische und gedruckte Elektronik

München, DEUTSCHLAND - Die gedruckte Elektronik ist eine der Wachstumstechnologien der nächsten Jahre. Die Coatema Coating Machinery GmbH ist einer der Marktführer in diesem innovativen Wachstumsmarkt und ist dieses Jahr wieder auf der LOPEC in München als Aussteller, als Teilnehmer an der Demonstration Line und mit einem Vortrag vertreten.
Details

27. Februar 2014
Tag der offenen Tür
Coatema's Tag der offenen Tür
Forschungsprojekte, Technikumsführung, Anlagendemonstrationen

Das waren die Schwerpunkte bei Coatema's "Tag der offenen Tür" am vergangenen Mittwoch in Dormagen. Von 9 bis 17 Uhr waren über 110 Besucher aus der Industrie, aber auch Vertreter von Forschungs-instituten und Universitäten, dazu eingeladen das Dormagener Unternehmen und seine Aktivitäten in Forschung und Entwicklung besser kennenzulernen.
Details

22. Januar 2014
Messeauftakt 2014
In der nächsten Woche findet die 13th International Nanotechnology Exhibition & Conference in Tokio, Japan statt. Es ist die weltgrößte Messe im Bereich Nanotechnologie und unabdingbar für alle, die die neusten Technologien in den unterschiedlichsten Fertigungsprozessen nicht verpassen wollen. Die Aussteller zeigen vom Mittwoch, dem 29. Januar bis Freitag, den 31. Januar ihre neusten Entwicklungen und Technologien.
Details

16. Januar 2014
Tag der offenen Tür - Programm
Das Programm zum Tag der offenen Tür steht nun fest.
Hier können Sie sich die Informationen ansehen und herunterladen.
Bitte beachten Sie, dass alle Vorträge in englischer Sprache gehalten werden.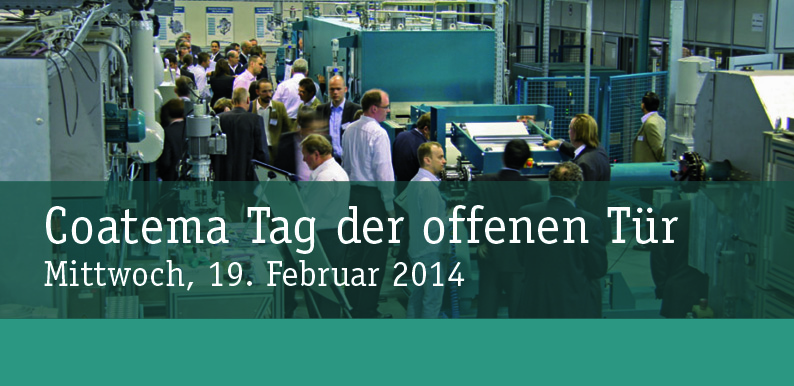 Details

13. Januar 2014
Einladung zum "Tag der offenen Tür"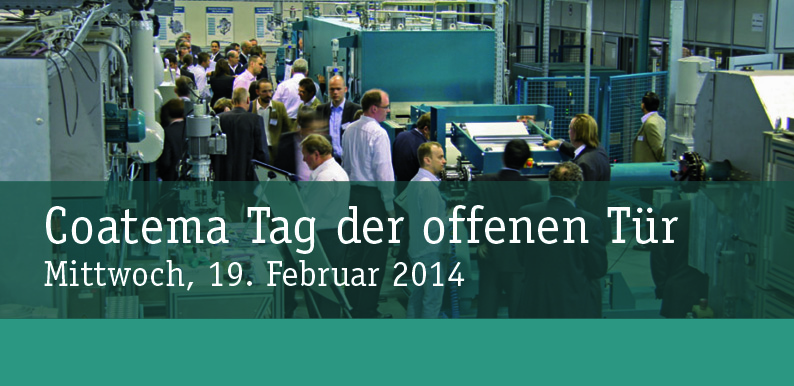 Am Mittwoch, den 19. Feburar 2014 werden wir einen Tag der offenen Tür veranstalten.