Details

05. März 2018
Coatema @ JEC World 2018 in Paris, France
Visit us at Joint Pavillon of the State of North Rhine-Westphalia - Hall 5A, Booth F56/F58 at JEC World 2018 March 6-8, 2018.
Coatema provides prepreg equipment for thermosetting and thermoplastic systems. From innovative fiber spreading devices to impregnation and a variety of other coating and extruder systems, the company builds pilot up to production equipment in high tech layout. R2R, one step or two step systems with a variety of layouts including high accurate calendering systems for high temperature applications.
http://www.jeccomposites.com/knowledge/international-composites-agenda/jec-world-2018
Details

05. März 2018
Coatema @ ICDT Guangzhou, China
Coatema will be present at this year´s International Conference of Display Technology in Guangzhou, China. The show is focused on special topics for a wide range of new display technology as well as the latest developments of manufacturing technologies throughout the Asian region and especially in China. ICDT will be a good venue to exchange ideas between display professionals and to establish collaboration with broad spectrum of researchers and key industry players around the world and in China.

Visit us at our joint booth pavillon no. 22/23 next to the OE-A stand where we will be exhibiting together with our brand partner Temicon and our community brand Temicoat from April 9-12, 2018
Details

08. Februar 2018
Modulares Click & Coat®-System von Coatema
Ein repräsentativer Artikel in der aktuellen Februar Ausgabe 67 des C2 Coating & Converting Fachmagazins zum Thema "Beschichtung ist unsere Kernkompetenz". Krefelder Firma Laufenberg nimmt das neue Technikum und Innovationszentrum mit dem modular aufgebautem Click & Coat®-System von Coatema in Betrieb. Weiter zum Artikel BESCHICHTUNG IST UNSERE KOMPETENZ.
Details

22. Januar 2018
LOPEC 2018 - Interview Printed electronics: from vision to product
In this interview, Hans-Jürgen Lemp (Director Global Sales & Business Development New Platforms, Merck KGaA), Thomas Kolbusch (Vice President, Coatema Coating Machinery GmbH) and Dr. Wolfgang Clemens (Head of Product Management, PolyIC GmbH & Co. KG) talk about a decade of printed electronics and the markets of tomorrow.
https://www.lopec.com/press/newsroom/press-releases/printed-electronics-from-vision-to-product.html
Details

16. Januar 2018
Coatema at the LOPEC 2018
+++ For immediate release +++
Duesseldorf, GERMANY. At LOPEC 2018 Coatema presents a live demonstration of the integration of inkjet printing into its pioneering "Inkjet Line" for printed electronics and its super-precise "New Easycoater" for sheet-to-sheet printing and coating.
As an example of Inkjet integration, Coatema presents the Inkjet Line for up to 300 mm web width in Coatema's recent design facelift and combines ink jet printing, coating by slot die and various other coating units. The Inkjet SC R2R is applicable for explosion protection and cleanroom or medical operation requirements. Optional setups include NIR curing, additional printing, coating, drying, and laminating units for most versatile applications in optical, PV, printed electronics, medical, microfluidic, sensor and home appliances.
The redesigned New Easycoater S2S allows tremendous precision and reproducibility in the low micrometer range making it indispensable for lab scale high precision operations. The 3-in-1 coating unit combines operation of doctor blade, single or multiple slot dies and screen printing. Super-flat coating table as well as the coating head station are both automatically movable. Multilayer coating and printing is supported by optional installation of a high precision registration camera system.
Both models are presented by Coatema's technical experts at the Coatema booth no. 406, Hall B0.
The Inkjet Line in full working operation for functional inkjet printing is part of the LOPEC demoline.
The Test Solution combines stunningly precise coating technology in a handy format and easy-to-use design. Main technical features comprise full operation of the device with pressurized air, a vacuum granite table substrate holder with 5 µm surface precision mounted on a stainless steel or granite frame and exchangeable coating units such as doctor blade and slot die.
The device is available now from Coatema and can be tested at Coatema's proprietary Technology Centre in Dormagen, Germany.
About Coatema GmbH
Since 40 years Coatema is well known as the leading manufacturer of innovative machines in coating, printing and laminating technology. From in-house lab solutions to production plants Coatema provides the full range of advanced customer solutions. For more information, visit www.coatema.de
Details

02. Januar 2018
Advanced R2R manufacturing lines for Printed Electronics at CES 2018
Pressemeldung / Press release
Dusseldorf, GERMANY.
Coatema introduces its latest advancements in lab and roll-to-roll manufacturing equipment at CES 2018 on January 9th-12th. The innovative equipment manufacturer from Germany provides flexible and efficient one-stop-shop solutions for coating, printing and laminating. Combined with the Coatema R&D centre as an open hub for development of processes and products for start ups and market players in printed electronics, the Coatema R&D team with a number of experts in different areas, Coatema provides the value innovation needed for products show at the CES 2018.
Coatema is the leading manufacturer of Printed Electronics roll-to-roll manufacturing equipment from Germany. Among the broad scope of applications most prominent are OLED, flexible solar cells, biomedical printed sensors, renewables and IoT applications. CES 2018 in Las Vegas is the very first and most representative opportunity in the United States to present brand new advancements in several manufacturing processes.
An ultra-fast reacting slot die is presented as an optimal solution for patterned OLED manufacturing, allowing start-stop reaction times in the low millisecond region. Furthermore, latest brand-new product developments are introduced to the US market: The "New Easycoater" stands for a new generation of sheet-to-sheet printing and coating, while the new "Nanoimprint Line" allows pioneering printed nanostructures.
Coatema's New Easycoater is an extraordinarily precise sheet-to-sheet lab coating and printing line. This unit is a revolutionary easy and precise combination of slot die or doctor blade coating, screen and ink jet printing and various drying options. The range of applications include printed structures, encapsulation coatings, biomedical sensors, patches, membranes, etc.
All the more, Coatema introduces its also recently released Nanoimprint coating line for highly innovative roll-to-roll manufacturing of micro- and nanostructured surfaces as they are often used in latest light guide applications, functional surfaces and biomedical sensors. More information on both lines is presented at the Coatema booth No. 40937 in the OE-A joint pavilion at CES at TechWest.
About Coatema GmbH
Since 40 years Coatema is well known as the leading manufacturer of innovative machines in coating, printing and laminating technology. From in-house lab solutions to production plants Coatema provides the full range of advanced customer solutions. For more information, visit www.coatema.de
Details

07. September 2016
Besondere Auszeichnung für Coatema
Dormagen/Düsseldorf. Mit einem feierlichen Empfang im Düsseldorfer Wirtschaftsministerium wurden heute die 20 Preisträger des Unternehmenswettbewerbs "NRW-Wirtschaft im Wandel" geehrt. Der Wettbewerb, den die Initiative "Deutschland – Land der Ideen" mit mehreren Partnern ausrichtet, prämiert herausragende Unternehmen aus Nordrhein-Westfalen, die den Strukturwandel des Bundeslandes hin zu einem vielfältigen und zukunftsstarken Wirtschaftsstandort in vorbildhafter Weise symbolisieren. Zu den Preisträgern gehört die Coatema Coating Machinery GmbH. Angefangen hat unser Unternehmen vor mehr als 40 Jahren mit dem Verkauf von Textilmaschinen.
Heute gilt Coatema als Lieferant für Hightech Beschichtungs- und Laminieranlagen für verschiedene Produkte wie z. B. Membrandruck, Prepreg, Brennstoffzellen, flexible Solarzellen und Batterien. NRW-Wirtschaftsminister Garrelt Duin, Vorsitzender der 15-köpfigen Expertenjury und Schirmherr des
Wettbewerbs, beglückwünschte die Preisträger: "Die heute ausgezeichneten 20 Unternehmen geben eine wirklich eindrucksvolle Leistungsschau unserer Wirtschaft ab. Und sie zeigen beispielhaft, wie es auf ganz unterschiedliche Weise gelingt, sich in einer ständig verändernden Welt erfolgreich zu
behaupten. Die Unternehmen zeigen vielfältige innovative Digitalisierungsstrategien und Transformationsprozesse, die über NRW hinaus Vorbildfunktion für den Standort Deutschland haben." Holger Lösch, Geschäftsführer Deutschland – Land der Ideen, betonte: "Die Preisträger des Wettbewerbs gehen mit positivem Beispiel voran und symbolisieren so den bemerkenswerten Wandel dieser Region."
NRW Minister Garrelt Duin (links) gratulierte den Coatema Geschäftsführern Dr. Andreas Giessmann (mitte) und Detlev Dieke (rechts)
Foto: MWEIMH / R. Pfeil
Details

05. September 2016
Zürcher Hochschule entscheidet sich für Smartcoater von Coatema
Die Zürcher Hochschule für Angewandte Wissenschaften (ZHAW) - Institute of Materials and Process Engineering (IMPE), hat sich für die Anschaffung einer Laboranlage der Firma Coatema entschieden. Der Fokus der Aktivitäten der rund 40 Mitarbeitenden in Forschung und Entwicklung liegt auf den Schwerpunkten Werkstoffe, Oberflächentechnik sowie Verfahrensentwicklung. Zum weiteren Ausbau der Kompetenzen in der Oberflächentechnik suchte das IMPE eine möglichst leistungsstarke, flexible und erweiterbare Anlage um Ihren Kundenkreis entsprechende Forschungsmöglichkeiten anbieten zu können.
Die Anlage vom Typ Smartcoater (SC) ist ausgestattet mit Corona, Deionisierung, diversen Auftragsmöglichkeiten (Rakel, Zweiwalzensystem, Düse, Microroller, Rotationssiebdruckwerk, Flexodruckwerk und Foulard) sowie verschiedenen Trocknungsmöglichkeiten wie Luftdüsentrockner, IR Trockner und einer UV Einheit. Eine Kaschierstation erweitert die Funktionalität der Anlage. Zusätzlich kann die Anlage auch inert betrieben werden.
Der Smartcoater ist eine von insgesamt sieben Produktgruppen aus der Laborserie der Coatema Coating Machinery GmbH und besticht durch seine modulare Bauform und der Präzision und Reproduzierbarkeit.
Details

19. Mai 2016
Coatema bei der drupa 2016
Düsseldorf. Als eines der großen Highlights im Bereich Printed Electronics in der diesjährigen drupa, präsentiert Coatema in einer Live-Demonstration seinen innovativen Bestseller, den Smartcoater. Mit der neuen gemeinsamen Marke Temicoat werden Pionierlösungen im Bereich gedruckter Nanostrukturen vorgestellt.

Als führender deutscher Hersteller von Beschichtungs-, Druck- und Laminieranlagen für Printed Electronics freut sich Coatema Coating Machinery GmbH, auch dieses Jahr wieder auf der drupa mit einer absoluten Neuigkeit vertreten zu sein. Als Forschungs- und Upscaling-Anlage wurde der Coatema Smartcoater mit einem hochinnovativen 6-in-1 Auftragswerk versehen. Neben dem Schlitzdüsen- und Rollensiebdruckverfahren werden weitere vier Auftragsverfahren in die Anlage integriert und machen effiziente Prozessentwicklung sowie flexibles Upscaling in Printed Electronics und Organischer Photovoltaik erst richtig möglich.

Die Anlage ist ausgestattet mit Silberpastendruck, einer UV-LED Curing-Einheit und einem hochmodernen Flashlight Sintering-System von Heraeus. Sie wird in einer Live-Demonstration auf dem Coatema-Stand B05 in Halle 6 zu besichtigen sein. Erfahrene Beschichtungs- und Druckexperten stehen für Fragen und Beratung jederzeit zur Verfügung.

Coatema und Temicon – beides etablierte Technolgie-KMUs aus NRW – sind außerdem stolz, ihre gemeinsame Marke "Temicoat" vorzustellen. Temicoat steht für hochinnovative Seamless Nanoimprint-Technologie für Display-, Photovoltaik-, biomedizinische und bionische Anwendungen. Die angebotenen One-stop-shop-Lösungen zum Druck von Strukturen im Mikrometer- und Nanometer-Bereich schließen die komplette Produktionskette ein, inklusive Anlagen, der nötigen Chemie, der Serienfertigung sowie der Endprodukte.

Über temicon GmbH
temicon GmbH ist der führende Anbieter von hochqualitativen mikro- und nanostrukturierten Produkten als Schlüsselkomponenten für Display-, Life Science-, Solar- und biomedizinischen Anwendungen. Das Technologieunternehmen hat eine einzigartige Plattform für Mikro- und Nanostrukturierung geschaffen. Das Unternehmen verwendet Lithografie, Dünnschichttechnologie, Electroforming, Spritzguss, R2Rund R2P-Technologien zur Herstellung der Mikro- und Nanostrukturen – mit einem besonderen Fokus auf großflächige Strukturen und Serienproduktion. Für mehr Infos besuchen Sie bitte www.temicon.com

Über Coatema GmbH
Coatema Coating Machinery GmbH konstruiert und fertigt Anlagen für die Bereiche Beschichten, Drucken und Laminieren. Sowohl für Rolle zu Rolle Anwendungen bahnförmige Substrate als auch für Stückgutbeschichtung.
Das Unternehmen ist seit 40 Jahren in Märkten wie Textil, Folien- und Papierbeschichtung aktiv und bietet hier Produktions- und Pilotanlagen an.
Vor 15 Jahren wurde der Bereich Pilotanlagen entwickelt in denen Coatema heutzutage Marktführer in innovativen Technologien wie Batterien, Solar, Prepregs, Medizin, Brennstoffzellen und gedruckte Elektronik ist.
Die Fokussierung auf diese High-Tech Märkte, ein umfangreiches Serviceangebot und das weltweit größte Technikum für Beschichten, Drucken und Kaschieren ermöglicht es dem Unternehmen Coatema seinen Kunden komplette Lab-to-Fab Technologien (vom kleinen Muster bis zum fertigen Produkt) anzubieten.
Neben der klassischen Ausrichtung als vertikal integrierter Maschinenbau nimmt Coatema regelmäßig auch an deutschen und europäischen Forschungsprojekten teil und führt jedes Jahr am Standort in Dormagen eine internationale Beschichtungskonferenz durch.
Als global agierendes Unternehmen verfügt Coatema über ein weltweites Vertriebsnetz und beliefert alle Wachstumszentren mit ihren Produkten für Beschichten, Drucken und Laminieren.
Details

06. April 2016
temiCoat® at the LOPEC 2016
World's biggest event for large-area, organic and printed electronics
Dormagen, GERMANY – Micro-/Nanotechnology specialists Coatema and temicon have announced their joint release of temiCoat® as a new brand of their joint activities in the field of nanoimprinting and nanostructuring machinery. temiCoat® will be introduced for the first time to the public during LOPEC 2016 exhibition in Munich.

Coatema and temicon, both technological leaders in their industry, have joined their experiences in the brand temiCoat® in order to provide the technologically most advanced nanoimprinting and nanostructured coating lines to customers on international scale . temiCoat® will exhibit and provide live demos at LOPEC 2016, the world´s most prestigious event and congress for printed electronics and organic large-area electronic coatings.

temicon holds a uniquely deep expertise in the field of nanoimprinting tools and machinery. Coatema has more than 40 years of engineering experience and is technologically leading in manufacturing precise coating, printing and laminating lines. The new brand temiCoat® combines the advantages and experiences of both companies to deliver the most advanced and most reliable nanoprinting turnkey solutions and guaranteed products.

Visitors interested in seeing live production of nanoprinting and nanostructuring coating lines are kindly invited to visit the Demonstration Line at the LOPEC in Munich from April 6th to April 7th, 2016.

For a free invitation fpr LOPEC visit please contact temiCoat® via Email. FOr further information please contact temiCoat® via Email or phone: Diese E-Mail-Adresse ist vor Spambots geschützt! Zur Anzeige muss JavaScript eingeschaltet sein! or +49.231.47730-550.

About Coatema GmbH
Since 40 years Coatema is well known as the developer of innovating products in coating, printing and laminating. From in-house lab solutions to production plants we are able to provide the full range of our customer needs.

About temicon GmbH
temicon GmbH is the leading producer of high-quality micro- and nanostructured products serving the key components for applications like lightning, display, life science, solar technology and environmental enginieering. For more information, visit www.temicon.com.
Details

24. März 2016
Coatema at the LOPEC 2016
World's biggest event for large-area, organic and printed electronics
Munich, GERMANY - organic and printed electronics are among today's fastest growing technologies and will have a huge impact on our everyday life. Coatema Coating Machinery Company is a market leader in the manufacturing of organic electronics and will introduce their latest advancements at LOPEC 2016 in Munich.

One of the major highlights at LOPEC 2016 will be the introduction of Coatema's new "Test Solution" product line for roll-to-roll and sheet-to-sheet coating, printing and laminating. This compact and budget orientated product line offers a small scale platform especially for laboratories and R&D centers. Coatema will also present the Smartcoater in a new remodeled layout with 6-in-1 coating system, an integrated register control, UV LED crosslinking system and a new module for photonic sintering. This system can be experienced live at the LOPEC Demonstration Line.
At LOPEC conference, Coatema Vice President Thomas Kolbusch will be a featured speaker focusing in his talk especially on recent developments in nanoimprinting and laser structuring technologies.
Visitors interested in seeing live production of printed electronic products are kindly invited to visit the Demonstration Line at the LOPEC (hall B0/booth 407) where Coatema will produce EL devices on their Smartcoater. All LOPEC attendees are invited to visit Coatema in Munich from April 6th to April 7th, 2016 in hall B0 on booth 405.
For a free invitation for LOPEC visit or further information please contact Coatema via Email Diese E-Mail-Adresse ist vor Spambots geschützt! Zur Anzeige muss JavaScript eingeschaltet sein! or by phone on +49 (0) 21 33 / 97 84 - 121.
We are looking forward to meet you at LOPEC 2016.
Details

18. März 2016
New technical center introduced at Coatema symposium 2016
Dormagen, GERMANY - March 18th, 2016 – Coatema Coating Machinery Company has introduced their new and remodeled technical center, opening now its latest and technologically upgraded coating and laminating machines for customer trials, hands-on process development and small series production.
Over 80 participants from more than 12 different countries visited and contributed to this year's symposium of Coatema Coating Machinery Company, held on March 16-17, 2016. The range of introduced coating machines reached from lab scale to fab scale, including a full production line and more compact test solutions for R&D centers.
Three coating and printing series have been presented: 1) A full production line, equipped with automated turret winder, 2) the mid-scale flexible Click-and-Coat unit, including a register control camera and spatially-resolved inline thin film thickness metrology, and 3) the lab-scale Smartcoater, demonstrating onsite a live coating of silver ink for electronic printing applications, including an ultra-fast UV cross-linking dryer and an inline flashlight sintering system.
The symposium conference was focused this year on the discussion of latest advancements in roll-to-roll coating processes and on the expectable gain in coating quality and efficiency by integration of reliable inline metrology. More than 12 speakers and experts contributed with talks on their latest scientific work and experiences, among them experts from Fraunhofer IWS, Heraeus, Henkel and FRT.
Since 2000, the Coatema symposium is a popular annual event mostly frequented by experts and decision makers from science and industry. It is appreciated by attendees for its well established role in facilitating exchange of knowledge and development of new business ideas. The symposium is accompanied by technical live demos and traditionally hosted by Coatema Coating Machinery in Dormagen.
Details

03. Juli 2015
Flexlas Project successful finished
Roll to Roll patterning of OPV devices is now reality
Dormagen / Aachen, Germany - Organic and printed Electronics are some of today's fastest growing technol-ogies. Coatema Coating Machinery GmbH is a market leader in these innovative technologies. Together with a number of partners like Limo Lissotschenko Mikrooptic GmbH, 4JET Technologies GmbH, Ruhr Universität Bochum and Fraunhofer Institute for Laser Technology, Coatema finished the NRW (North Rhine-Westphalia) Ziel 2 funded project Flexlas. The target here was to develop a laser patterning process for OPV devices, which also later can be applied to other products like OLED lighting.
In the project Coatema task was to develop a universal lab unit for OE processes and to integrate a laser source and optics provided by the partners. The prototype system developed is based on Coatema´s proven Smartcoater technology, which is now based at the Fraunhofer ILT in Aachen. The Smartcoater as a dedicat-ed unit for printed electronics allows operating under nitrogen atmosphere and is a cost effective approach to stabilize the web under different laser sources.
Thanks to the funding and the excellent work of all partners Coatema was already able to integrate R2R laser systems with more than five industrial and R&D partners. The next step is to introduce the laser patterning de-veloped into complete inline processes for organic or hybrid systems. Additional funded projects would be needed to support now the scale up process into a working width of 1.000 mm with a higher resolution and registration accuracy.
Out of this project Coatema Coating Machinery GmbH was able to install more than five industrial or R&D sys-tems in Europe.
Coatema's Vice President Thomas Kolbusch stated: "The Flexlas project once more demonstrated the innova-tion and development potential of North Rhine-Westphalia."
"The cooperation with Coatema in the Flexlas Project was very fruitful and opened up new application areas for Fraunhofer ILT in the field of web based processing for batteries and flexible solar cells" tated Dr. Arnold Gillner, department manager Ablation and Joining at Fraunhofer ILT.
Details

26. Juni 2015
Coatema Seminar at the Brno University of Technology
September 2 - 3, 2015
Brno, CZECH REPUBLIC – Coatema's new Pilot line to be demonstrated in a one day seminar at the Brno University of Technology on September 2nd to 3rd, 2015 in Czech Reublic.
The Sixth Meeting on Chemistry and Life will be held at Brno University of Technology, Faculty of Chemistry. It will draw upon the tradition of regular meetings providing people from industry, research and academia with a forum to exchange ideas on recent advances in research in materials chemistry, environmental chemistry and technology, food chemistry and biotechnology, physical chemistry and applied chemistry. The conference will be held under the auspices of the rector of Brno University of Technology, Professor Petr Štěpánek.
Conference Agenda:
Presentation Coatema Coating Machinery GmbH by Dr. Ludger Michels
Presentation Printed Electronics by Dr. Ludger Michels
University lecture by Dr. Ludger Michels
Question and answer session
Lab tour
This gives the newest update on development in Printed Electronics.
We are looking forward to meet you in Brno.
Details

11. Februar 2015
Coatema auf der LOPEC 2015
Weltweit größte Veranstaltung für großflächige, organische und gedruckte Elektronik.
Die gedruckte Elektronik ist eine der Wachstumstechnologien der nächsten Jahre. Die Coatema Coating Machinery GmbH ist einer der Marktführer in diesem innovativen Wachstumsmarkt und ist dieses Jahr wieder auf der LOPEC in München als Aussteller, als Teilnehmer an der Demonstration Line und mit einem Vortrag vertreten.
Die LOPEC ist die größte Messe für organische und gedruckte Elektronik und findet dieses Jahr zum 7ten Mal statt.
Eines der Coatema Highlights dieses Jahr auf der LOPEC 2015 ist die neue Produktserie Test Solution, die auf der Messe in München das erste Mal gezeigt wird.
Beschichten, Drucken und Laminieren im Kleinstmaßstab - sowohl Stückgut als auch Rolle-zu-Rolle.
Die kompakten und kostengünstigen Laboranlagen können mit unterschiedlichen Druck- und Beschichtungssystemen (Slot Die, Rakel, Flexo und Gravurwalze) ausgestattet werden und sind vielfältig erweiterbar.
Für diejenigen der Besucher die einmal die Live Produktion von gedruckten Elektronikprodukten sehen möchten ist das Coatema Team mit einer Pilotanlage auf der Demonstration Area vertreten. Hier wird ein EL Display gedruckt und Muster verteilt.
Wir möchten Sie herzlich einladen uns vom 4. bis 5. März 2015 auf der LOPEC in München auf unserem Stand Nr. 305 zu besuchen.
Gerne erhalten Sie Eintrittsgutscheine von uns. Schreiben Sie uns einfach eine kurze Email mit der gewünschten Anzahl von Eintrittskarten.
Details

09. September 2014
Das Programm steht fest
14. internationales Symposium für Beschichten, Drucken & Laminieren
Vielfältige Vorträge und detaillierte Versuche warten auf Sie
Das Programm zu der zweitägigen Veranstaltung am 4. und 5. November können Sie hier herunterladen.
Details

03. Juni 2014
LOPEC 2014 Highlights
Coatema Highlights
Weltweit größte Messe für organische und gedruckte Elektronik
Die internationale Fachmesse und Kongress für gedruckte Elektronik, kurz LOPEC, hat letzte Woche in München zum 6. Mal stattgefunden.
Details

22. Mai 2014
Unter den besten Fünf
Coatema beim IHK Forschungs- und Innovationspreis 2014
Der Thin Film Coater/Printer gehört zu den besten fünf Innovationen dieses Jahres
Gestern wurde zum 6. Mal der IHK Forschungs- und Innovationspreis vergeben. Die Verleihung und Feier fand in der Maschinenhalle im Monforts Quartier in Mönchengladbach statt.
Details

16. Mai 2014
14. Coatema Symposium
Der Termin steht fest ...
Das 14. internationale Smyposium für Beschichten, Bedrucken und Laminieren wird im November, vom 4.-5. November (Dienstag & Mittwoch) stattfinden.
Mehr Informationen gibt es hier.
Details

16. Mai 2014
Die LOPEC 2014 findet bald statt
Coatema auf der LOPEC 2014
Weltweit größte Messe für organische und gedruckte Elektronik

München, DEUTSCHLAND - Die gedruckte Elektronik ist eine der Wachstumstechnologien der nächsten Jahre. Die Coatema Coating Machinery GmbH ist einer der Marktführer in diesem innovativen Wachstumsmarkt und ist dieses Jahr wieder auf der LOPEC in München als Aussteller, als Teilnehmer an der Demonstration Line und mit einem Vortrag vertreten.
Details

21. März 2014
JEC 2014
Paris, FRANKREICH – Eine der wichtigsten Messen rund um das Thema Verbundwerkstoffe hat letzte Woche in Paris stattgefunden. Die dreitägige Messe (11. – 13. März) hat eine internationale Plattform für Unternehmen aus der gesamten Wertschöpfungskette aus dem Bereich der Verbundwerkstoffe geboten und Coatema konnte sich und sein Fachwissen im Bereich Prepreg präsentieren.
Details

27. Februar 2014
Tag der offenen Tür
Coatema's Tag der offenen Tür
Forschungsprojekte, Technikumsführung, Anlagendemonstrationen

Das waren die Schwerpunkte bei Coatema's "Tag der offenen Tür" am vergangenen Mittwoch in Dormagen. Von 9 bis 17 Uhr waren über 110 Besucher aus der Industrie, aber auch Vertreter von Forschungs-instituten und Universitäten, dazu eingeladen das Dormagener Unternehmen und seine Aktivitäten in Forschung und Entwicklung besser kennenzulernen.
Details

22. Januar 2014
Messeauftakt 2014
In der nächsten Woche findet die 13th International Nanotechnology Exhibition & Conference in Tokio, Japan statt. Es ist die weltgrößte Messe im Bereich Nanotechnologie und unabdingbar für alle, die die neusten Technologien in den unterschiedlichsten Fertigungsprozessen nicht verpassen wollen. Die Aussteller zeigen vom Mittwoch, dem 29. Januar bis Freitag, den 31. Januar ihre neusten Entwicklungen und Technologien.
Details

16. Januar 2014
Tag der offenen Tür - Programm
Das Programm zum Tag der offenen Tür steht nun fest.
Hier können Sie sich die Informationen ansehen und herunterladen.
Bitte beachten Sie, dass alle Vorträge in englischer Sprache gehalten werden.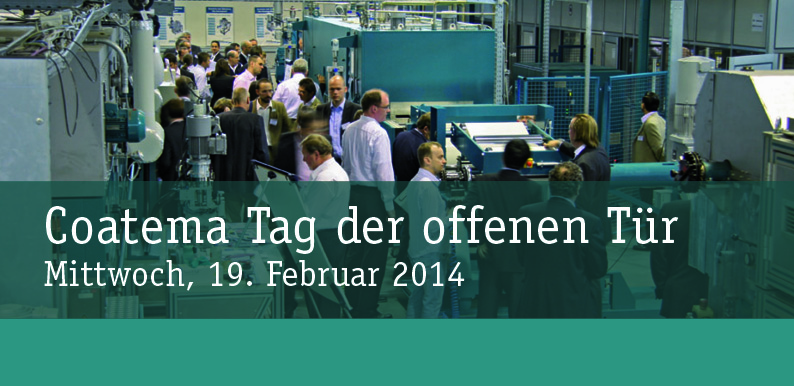 Details

13. Januar 2014
Einladung zum "Tag der offenen Tür"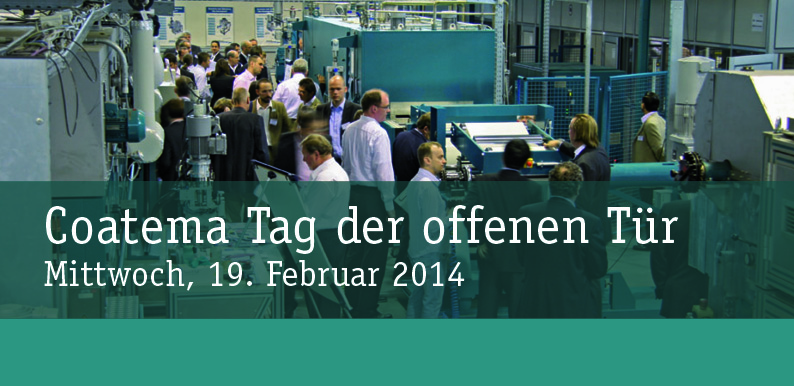 Am Mittwoch, den 19. Feburar 2014 werden wir einen Tag der offenen Tür veranstalten.